Here are optimal settings to help our users who have Macs and use Safari.
SAFARI POP-UP BLOCKERS TUTORIAL
Safari allows control on whether pop-ups are allowed. Here we will walk you through the process of turning off the pop-up blocker feature to allow you to view and download documents generated through E-Closing.
Note: Pop-up blocking is turned on by default, so it doesn't need to be enabled to prevent pop-ups.
Blocking pop-ups may interfere with some websites: Some websites (for ex; banking sites) use pop-ups for important features. Blocking all pop-ups disables such features. To allow specific websites to use pop-ups, while blocking all others, add specific websites to the list of allowed sites.
Pop-up Blocker Settings To access the pop-up blocker settings:
Click the Safari button and choose "Preferences"


Next click on the "Security" tab and uncheck "Block pop-up windows" which is located
in the "Web content" section.


Please note: There are no website specific exceptions in Safari. The pop-up blocker feature
is either turned on or off.
SAFARI WORD DOCUMENT DOWNLOADS
In E-Closing you can download documents in Word format. Here we will walk you through the process of changing where the Word document saves on your computer.
Open Safari and click on "Safari" in the menu bar and choose "Preferences".


Choose the "General" tab and change "File download location" to Downloads (close Preference menu once changed)

Note: You may need to chose "Other…" and on the menu choose "Downloads"

You can now go into a file and try and generate a document in Word format.
Go within a file and go to "Documents" and choose either "Document Management" OR "Generate Documents".
Select a document package and select the document you wish to generate in Word format. Under "Output Options" uncheck "View on Screen" and check off "Word Document".


Note: If you check off "Word Document" before unchecking "View on Screen" you will get a pop-up message stating "Word output CANNOT be used with any other output". You can just click "OK" and you will still be able to generate the document in Word format. This message is to indicate that you cannot generate a PDF and a Word document at the same time.
Please also note: If you generate more than one document in Word format at a time that Word will try and create some common ground with the formatting of the documents. You may experience issues like font theme/font size/margins/spacing etc. may change when generating more than one document in Word.
This is unfortunately out of our control and we recommend that you generate one document in Word format at a time if you experience this issue.
TextEdit is a simple, open source word processor and text editor. You may need to change the output option of how documents are opened if TextEdit is the default so you can open your documents with Microsoft Word.
After downloading a document in Word format please follow these steps:
Go to your Download and find the document you just downloaded.
Hold the Control key and click on the document name, then choose "Get Info".


Use the arrow button next to "Open with:", change the drop down to Microsoft Word.


Lastly click "Change All…" right below and your computer will prompt to verify
changing the default, at that point choose "Continue".


Note: This is a onetime default change. After this, each time a Word Document is chosen it will automatically
open in Word.
SAFARI DISPLAY PDF IN BROWSER
To view PDF's with Safari, you may need to Set Safari preferences to use Adobe Reader plug-in.
Step 1: Launch Safari, and then choose Preferences.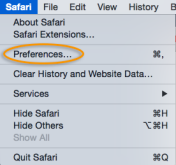 Step 2: In the Preferences window, choose Security and then click the Website Settings button for Internet plug-ins.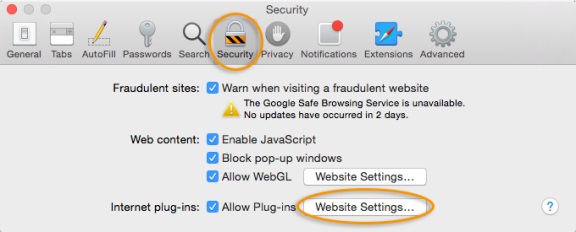 Step 3: Now select Adobe Reader in the list of plug-ins. Under the option When visiting other Websites, in the drop-down list, choose Allow Always and then click Done.